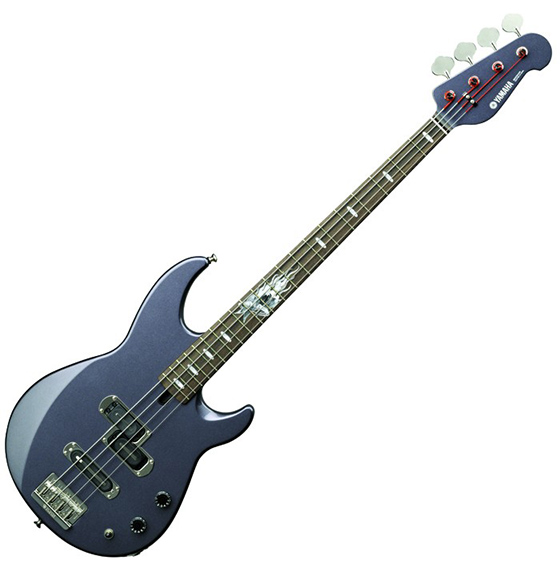 Michael's new signature Yamaha bass – the BB2024MA – has been released and is now available for purchase!
The new axe boasts a bolt-on 5-piece Maple/Mahogany neck with 10″ radius, a 21-fret rosewood fingerboard, an Alder body and a 34″ scale length. It also features Split Blade Alnico V and Single Blade ceramic pickupsand comes in a sweet steel gray finish.
More Specs
Miter Bolting
Miter bolting holds the neck closer and tighter to the body fusing these two separate components into one. Compared to a conventional bolt-on joint, miter bolting efficiently transfers string vibration throughout the body with little loss. This delivers greater body resonance making each note come alive.
Scoop Cut
The taper of these horns helps playability at the upper end up the fretboard.
Hipshot "D" Tuner
The Hipshot tuner drops the "E" string down a whole step to "D" with the flick of a lever. A gear adjustment provides precision tuning.
Chili Pepper Inlays
This 12th fret impressive inlay work adds the unique Michael Anthony touch, featuring flaming red hot chilli peppers bound by a wrap, tied together with his initials.
Five-Piece Neck
Five-piece necks on all BB 2000 series basses are made with plies of mahogany, which supplies silky warmth,and maple, which produces strong upper mids and bright hight. This design also froms a durable and stable neck that resists warping. *BB1000 and BB4000 series basses feature 5-ply maple and nato laminated necks.
Diagonal Body Thru Stringing
Together with the uniquely designed saddle, body thru stringing efficiently transfers string vibration to the body. A Yamaha original design used on all BB series basses places strings at a 45º angle at the saddle reducing stress, securing tension, and maximizing vibration transfer. The 45º cut on the back end of the body makes stringing easier and gives the BB a unique look.
Visit Kraft Music to order yours today – either the BB2024MA by itself or in a bundle with a tuner, guitar stand, strap, cable, strings, string winder and guitar polish!