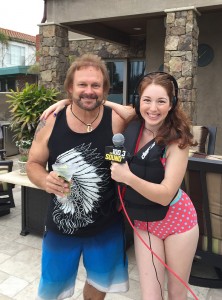 Early yesterday morning, LA-based radio show Mark in the Morning officially kicked off summer by sending their "Chick on the Street," Katie Thompson, to jump into Mad Anthony's pool at 7:00 AM! The only problem is that he doesn't have a pool; instead he has the Newport Bay!
Bristol Farms catered the festivities with a tiki-inspired theme featuring Mad Anthony's sauces and Mojitos to get the blood pumping before Michael, Katie and her sidekick Danny jumped together from Mad Anthony's boat dock into the Pacific Ocean.
Check out Mark in the Morning's website to watch a video and listen to a podcast from the show and visit Mad Anthony's Cafe on Facebook for photos from the festivities!