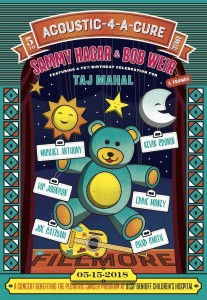 Mad Anthony is teaming up with Sammy Hagar and Bob Weir for the Fifth Annual Acoustic-4-A-Cure benefit concert May 15 at the Fillmore in San Francisco!
Celebrating the 75th Anniversary of blues legend Taj Mahal with artists including Sammy Hagar, Bob Weir, Taj Mahal, Joe Satriani, Chad Smith, Kevin Cronin, Michael Anthony, Vic Johnson, Eddie Money and more!
TICKETS GO ON SALE FRIDAY, MARCH 30 AT 10:00 A.M. (PDT) at http://acoustic4acure.org
The 2018 concert blends veterans and newcomers to the event, with Bob Weir stepping in to co-host the concert which benefits The Pediatric Cancer Program at UCSF's Benioff Children's Hospital.